************
Franklin, Tennessee
March 25, 2013
American History Press is pleased to announce that Jay Pilzer, Ph.D. will be publishing a book with us in early 2014 which is best described in his own words:
"The book looks at many issues of American History through the lens of guitars, the guitar business, and the music made on these instruments. It is either a book about American History illustrated by the instruments or a book about guitars and how they have reflected major elements of American life. In the end, the book is designed to appeal to people interested in a different approach to the American story and people interested in guitars who would like to see them in a broader context than is usual."
Jay Pilzer is a former professor of American history at Motlow State Community College and a visting lecturer at Vanderbilt University. More recently, he was a member of the steering committee for the well received guitar exhibit at the Tennessee State Museum and is a recognized authority and reseller of Guild Guitars.
We are honored and excited to be working with Jay on this project and will be posting updates on social media sites as it progresses.
************

American History Press is proud to announce the publication of

Kalamazoo Gals
A Story of Extraordinary Women & the Gibson "Banner" Guitars of WWII

John Thomas
With a Foreword by Jonathan Kellerman
FOR IMMEDIATE RELEASE – January 26, 2013
Franklin Tennessee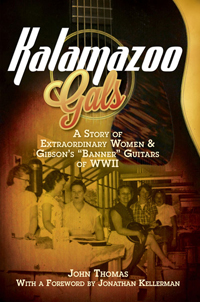 It's a haunting image. At least it was for author John Thomas. Some seventy women sit in four rows in front of the Gibson Guitar factory in the mid-1940s. Conventional wisdom and company lore had it that Gibson had ceased guitar production during World War II, with only "seasoned craftsmen" too old for war doing repairs and completing the few instruments already in progress. What were these women doing there? The image so bedeviled Thomas that he eventually set out to find at least one of the women in the photograph. He found a dozen. Along the way he would discover that despite denials that endured into the 1990s, Gibson employed a nearly all female workforce to build thousands of wartime guitars, each marked with a small, golden "banner" containing the slogan "Only a Gibson is Good Enough." The banner appeared on the guitars at the moment those women entered the factory in January 1942 and disappeared when the war ended at the end of 1945.
On his personal journey Thomas tracks Orville Gibson from his birth in upstate New York to the founding of his namesake company in Michigan, and finally to his untimely death in a mental hospital. He takes us to meet these women in Kalamazoo and to time travel with them through the Great Depression and into World War II. He wanders the hallways of the abandoned Gibson factory in search of the ghost of its founder, Orville Gibson, steps into an imaging clinic to seek radiographic evidence of sublime quality of the Gals' craft, and tracks the "Banner" Gibsons from Kalamazoo into the hands of their first owners. Along the way he leads us straight into the hearts of the Kalamazoo Gals.
About author John Thomas

John Thomas is a law professor, freelance writer, and guitar player who claims he's "still striving for mediocrity." His articles address topics from music and musical instruments to health policy, politics, autism, and juvenile justice. His writings have appeared in law reviews, medical journals, major newspapers, a wide range of music magazines, and the Oxford Dictionary of Music.

John's X-Ray project that demonstrated why Banner Gibsons are such stellar instruments evolvedinto an art exhibit that documents every significant American guitar over the past two centuries: Vintage Steel: the Art and History of the American Steel String Guitar. While waiting for the show to visit a nearby gallery or museum, you can view the exhibit on its website: http://www.vintagestellguitarart.com. For a dose of that mediocre guitar playing and to check out John's other projects visit http://www.johnthomasguitar.com.
Endorsements for Kalamazoo Gals
Kalamazoo Gals reveals the fascinating and previously untold story of Gibson's guitar production during World War II when wartime rationing, governmental regulation of manufacturing and lack of draft age men in the workforce dramatically altered life in America. John Thomas chronicles the stories of the women who took over the workforce, producing superb instruments in spite of no previous manufacturing experience, and later stepped back into domestichome life when the men returned home from the war. These Kalamazoo Gals are finally receiving the recognition they richly deserve.

- George Gruhn, author of Gruhn's Guide to Vintage Guitars, owner of Gruhn's Guitars in Nashville, and recognized expert on vintage stringed instruments


Kalamazoo Gals is that rare combination of history and detective story that unveils something new and fascinating at every turn. John Thomas has written a book that will excite fans of the guitar as well as armchair historians. There are
very few books that weave the history of the guitar into the history of America as engagingly.

- HP Newquist, founder of The National GUITAR Museum and author of The Way They Play

True life adventures in the land of "banner heads." John Thomas sets out to find everything there is to know about Gibson's famed wartime guitars, and he ends up with a fascinating cross-section of America's social history. Not just for guitar lovers.

- Walter Carter, Guitar historian, author of Gibson Guitars: 100 Years of an American Icon, and proprietor of Carter Vintage Guitars


I've always believed that behind every great guitar is a great story. The so-called Banner Era Gibsons made in Kalamazoo around World War II are among the greatest flattop acoustic guitars ever made, and the story behind them—and the women who built them—might be even better. John Thomas has given the guitar world a gift by telling this great and largely unknown tale.

- Allen St. John, author of Clapton's Guitar: Watching Wayne Henderson Build the Perfect Instrument